About Us
Vermont Nut Free Chocolates is committed to providing quality chocolates and treats that are safe for those with tree nut and peanut allergies. 
The Vermont Nut Free Chocolates factory is located at 146 Brentwood Drive in Colchester, Vermont. Our facility includes multiple candy kitchens, a warehouse, and a factory storefront. 
Our factory store has officially reopened as of May 2nd, 2022! Our shelves are well stocked with our nut free confections and we cannot wait to see your smiling faces. Come visit us and experience being "a kid in a candy store" for the first time.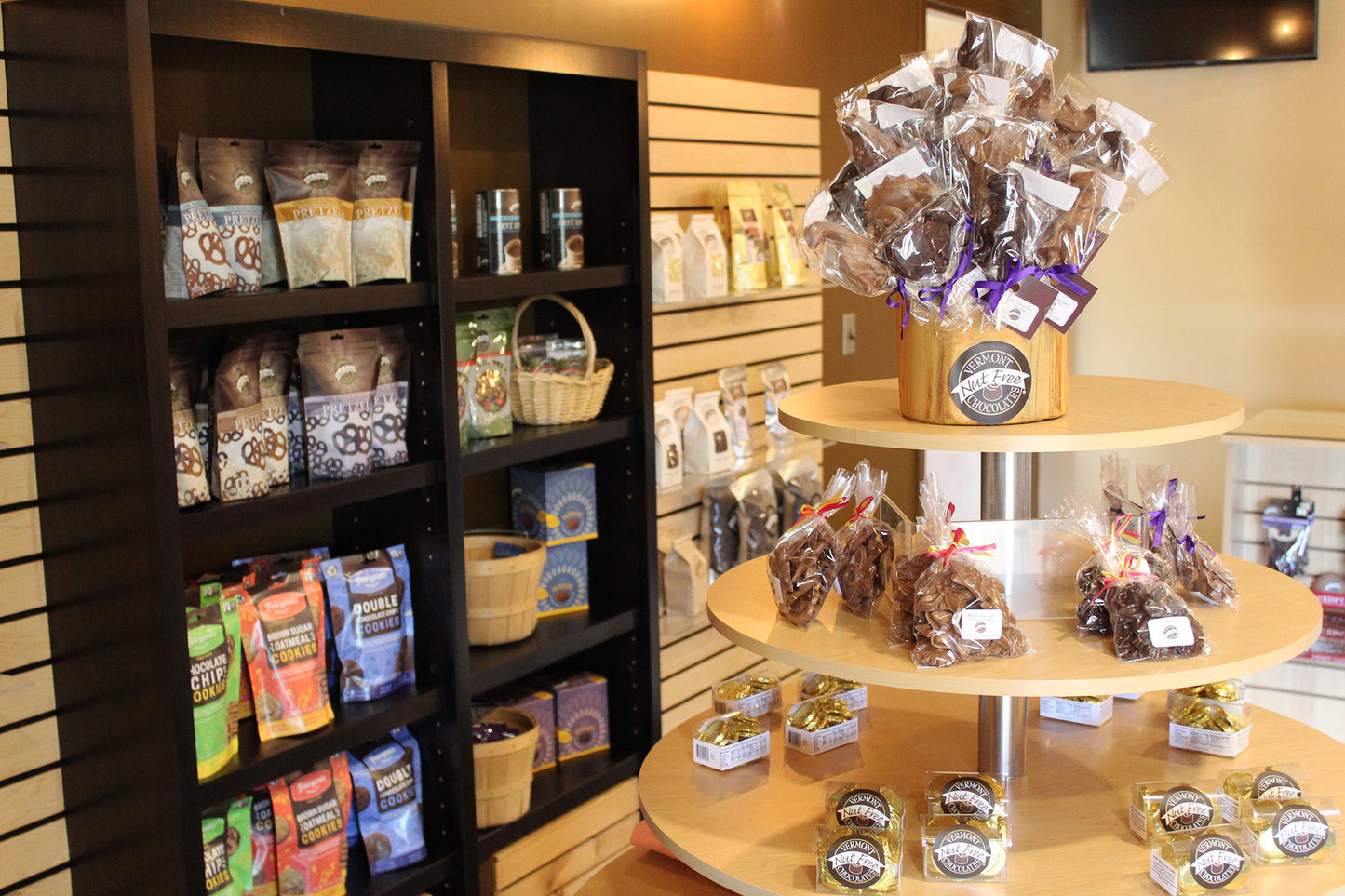 Our Story
Vermont Nut Free Chocolates was founded in 1998 by the mother of a little boy with a potentially life-threatening peanut allergy. Gail and Mark Elvidge first learned of their son Tanner's allergy when he suffered a reaction at 8 months old. They were shocked, concerned, and frightened to see this reaction in their small child.

To ensure their son's safety they began to thoroughly read ingredient labels and discovered that the hardest product to find for a nut allergic child was chocolate. Many chocolate companies manufacture products that contain nuts which makes their other products unsafe for nut allergies because of cross-contamination on shared production lines and facilities. Not wanting Tanner to miss out on a childhood indulgence, Gail began making homemade chocolate that was guaranteed safe.

The combination of love for her son and passion for chocolate inspired Gail to create Vermont Nut Free Chocolates, a company dedicated to making quality tree nut and peanut free confections. For the first two years, Gail and Mark ran the business out of their Vermont home, hand making all the chocolates in their kitchen. Previously located in the beautiful Lake Champlain Islands for the past 20 years, Vermont Nut Free Chocolates recently relocated to Colchester, Vermont and is proud to continue their production in a dedicated nut-free facility with over 30 devoted employees. In addition to ordering online, customers can now find our products in over 500 stores nationwide.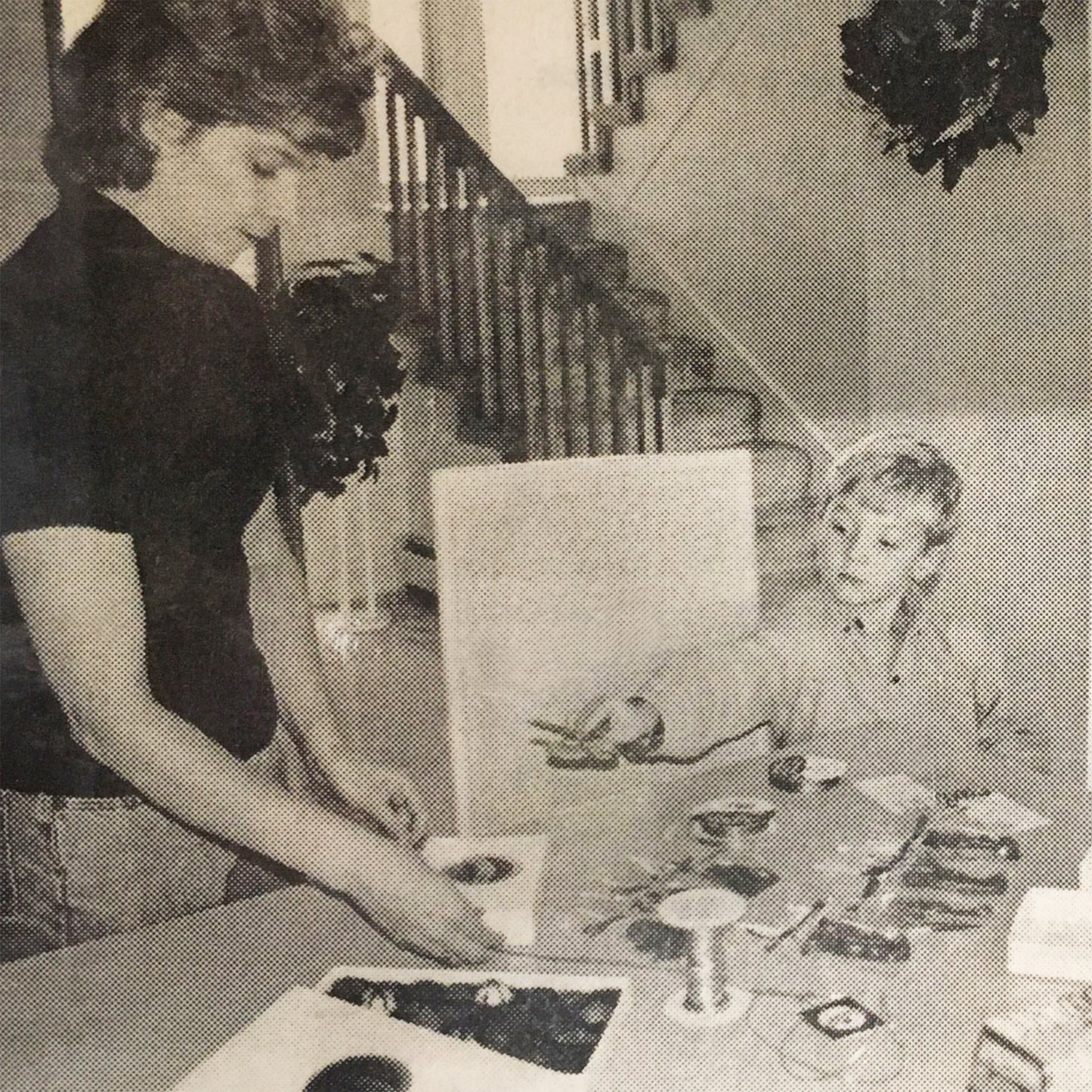 A home kitchen and helping hands
Where it all began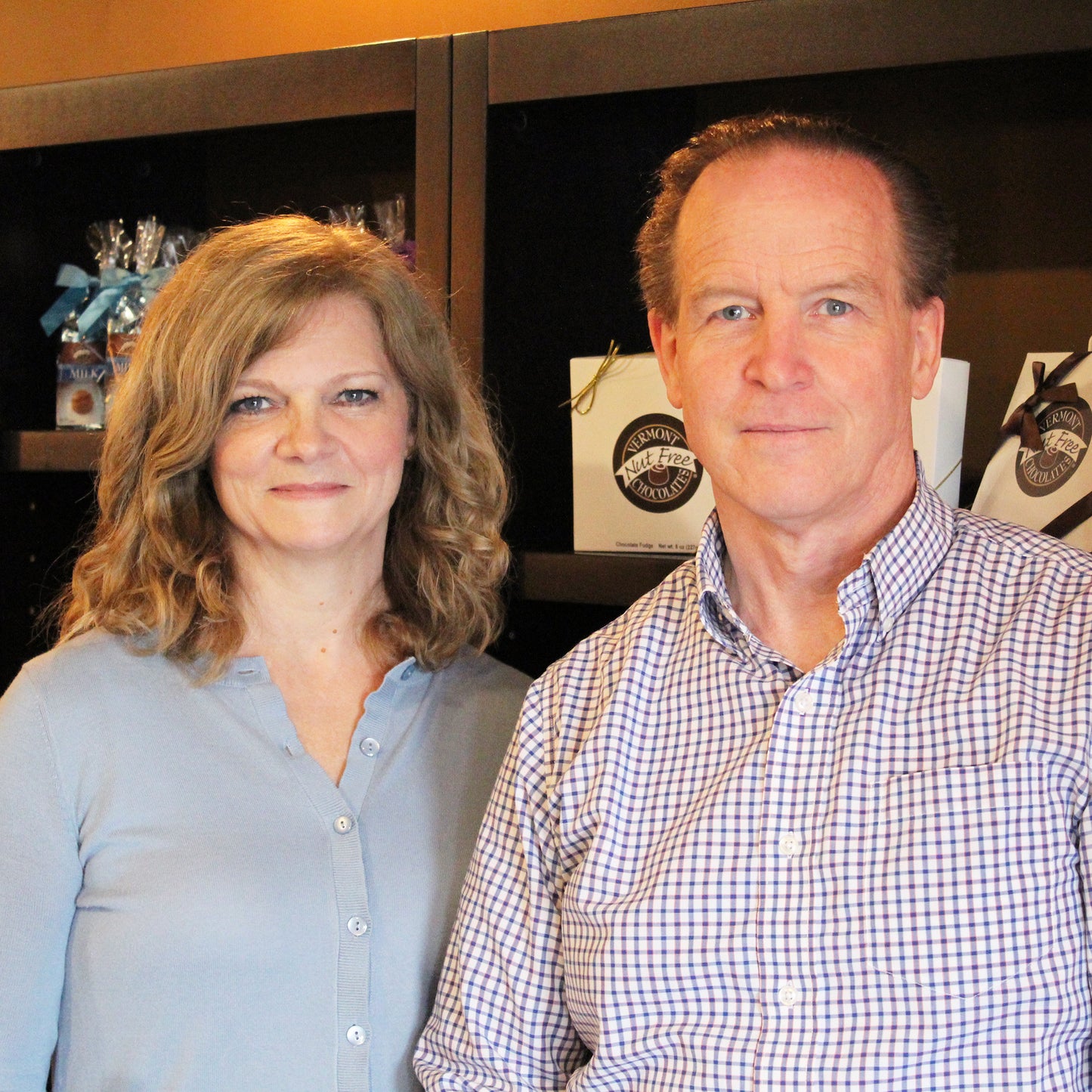 Vermont Nut Free Chocolates Co-founders
Mark and Gail Elvidge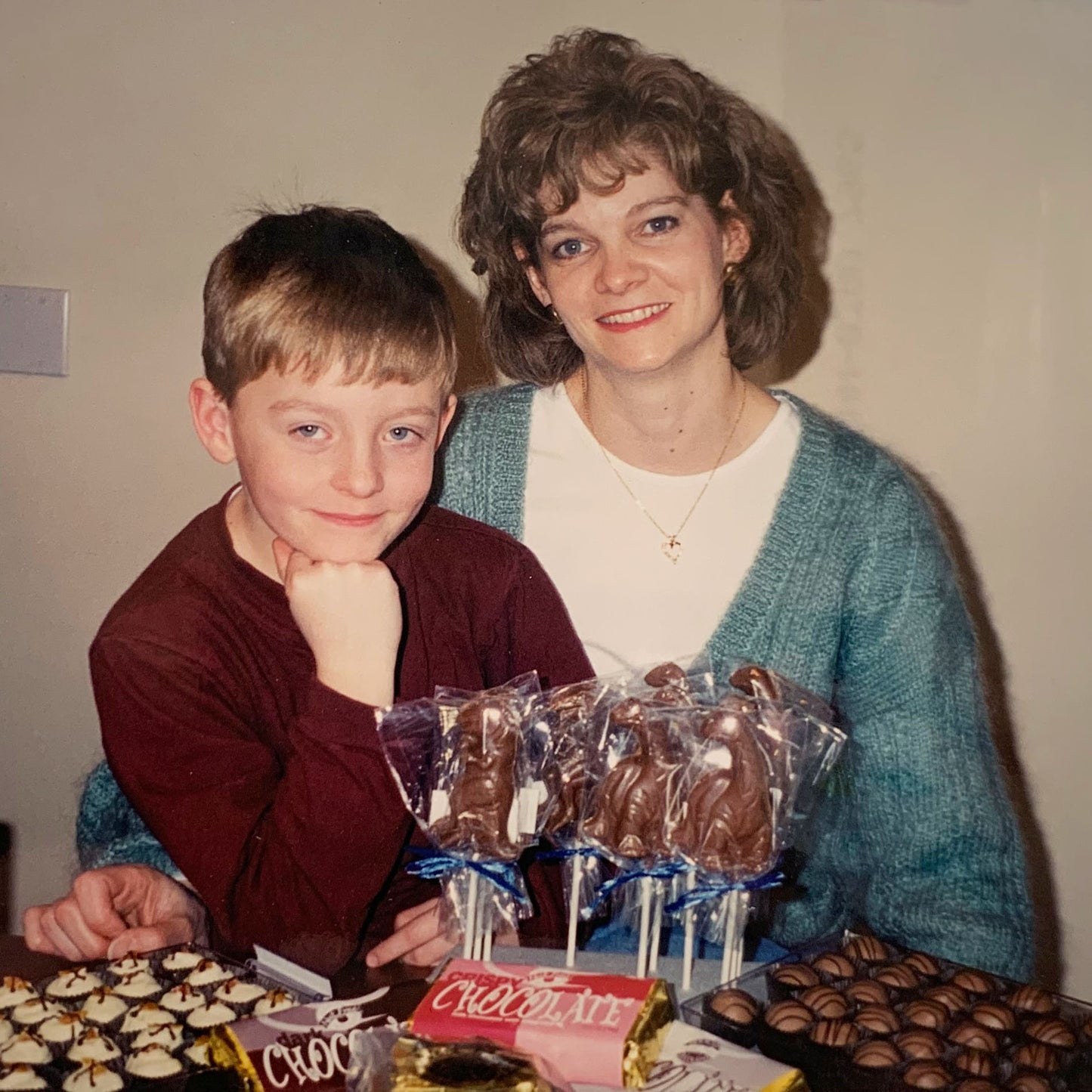 Showing off their favorite sweets
Tanner and Gail
Product Offerings
We are proud to have a dedicated peanut and tree nut free facility that uses only the finest nut free ingredients available. Our products are handmade and hand-wrapped in Vermont, the old-fashioned way, in small batches to guarantee quality and freshness. The whole family will enjoy our gourmet chocolates and confections. From chocolate lollipops and shapes to gourmet truffles and caramels we know you'll find something you love.

In addition to our line of fine chocolates, we offer a variety of confectionery products including jelly beans and candy-coated, button-shaped chocolates (Skippers®). We also create a wide variety of seasonal and holiday items including advent calendars, hot cocoa, and assorted barks.

We also offer TANABAR® granola bars and Trail Mix, great snack options for school lunches, travel, and outdoor activities! TANABAR®, our line of granola bars, developed in 2010 and named after the founder's son Tanner, are made with all natural wholesome nut free ingredients and are available in three delicious flavors: Triple Berry, Chocolate Chip, and Sweet Raisin. Our Trail Mix is ideal for snacking on the go because it has the perfect combination of sunflower seeds, roasted soybeans, dark chocolate Skippers®, dried cranberries, raisins, and pretzels.

For those concerned with other food allergies please check our ingredients page for detailed information on each product. Please note that we do make products that contain dairy, soy, egg, wheat, and sunflower seeds in our facility and are processed on shared production equipment.

We are always working on new recipes to add to our product line. We would love to hear your comments about our products as well as any suggestions for items and flavors that you would like to see made available.
behind the scenes
See how our gourmet sweets are made at our factory in Colchester, Vermont!